FInd us on amazon!
Exciting news! We're thrilled to announce that our products are now available on Amazon, making it easier than ever for you to enjoy your favorites. Whether you're looking for a single item or a multi-pack, you can now find us on Amazon for a hassle-free shopping experience. Get ready to satisfy your sweet tooth with our cotton candy, gummies, and snack mixes now available for purchase on Amazon!
Click Here To Visit Our Amazon Store Front!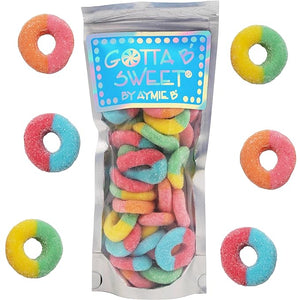 Check out some of our most recent collections - including our everyday items!
---
Custom Creations
Our team is dedicated to creating a personalized experience for you and making sure your candy is not only delicious but also looks fantastic. So go ahead, let your creativity run wild and create a candy that's uniquely yours!
Don't settle for boring candy! By choosing Gotta B' Sweet, you make both your taste buds and eyes happy.
Contact us today or click below to learn more about our private label capabilities and how we can make your candy dreams come true!
Click Here To Learn More About Our Custom Creations!
Gourmet Snacks & sweets
Candy, chocolates, popcorn, and more that are just as beautiful to gift as they are delicious!
From everyday items to our special holiday collections, we've got something for every craving!
View Products